The Alternative - "A True Teen Titan"
---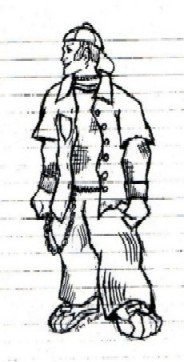 ---
---
---
The Alternative
Height: 5'6"
Weight: 180 lbs
From: Raleigh, North Carolina
Escorted by:Kung-Fu Katie
Title(s) Currently Held: -none-
---
---
---
The alternative claims his sole purpose in the WCWF is to "humiliate and destroy the embarassment that is Dr. Nightmare." He has no desire to make allies, or enemies. He is determined to go after Dr. Nightmare and run him out of the WCWF. The Alternative's favorite moves include the stunner, the Samoan back drop, and the headbanger (repeatedly slamming oponents haed into the turnbuckles). His finisher is The Mosh Pit. His closest ally is G.Y.M and his worst enemy is, naturally, Dr. Nightmare. The Alternative's idols and influences include Kurt Cobain, Frank Castle, Al Simmons, and Silent Bob.

"Your best option right now is to turn and walk away, 'cause you don't want The Alternative!!" - The Alternative

---

Click here to go back to the Stars of the WCWF page.